Northeast Wyoming Sage Grouse Working Group meeting
The Northeast Wyoming Sage Grouse Local Working Group will hold a meeting Tuesday, July 23 at 9:30 a.m. at the Johnson County Library at 171 N. Adams in Buffalo.
The group is comprised of fourteen local citizens representing groups interested in sage grouse conservation.  The role of the group is to develop and set in motion a local conservation plan to benefit sage grouse and, whenever feasible, other species that use sagebrush habitats.
The public is invited to attend the meeting. A public participation period is scheduled at 9:30 a.m.
The G&F supports the Americans with Disabilities Act. Anyone needing auxiliary aids to attend this meeting should call (800) 672-7418. Every effort will be made for reasonable accommodations.
Medicine Lodge Kids Outdoor Day
Youth from across the Bighorn Basin are invited to participate in the upcoming  Medicine Lodge Kids Outdoor Day- an exciting and fun filled day of outdoor activities on August 24 at Medicine Lodge State Archaeological Site in Hyattville.  Register by August 7 for a free t-shirt!  Call 307-527-7125 for more details.  
Volunteers needed to build fence to protect historical deer migration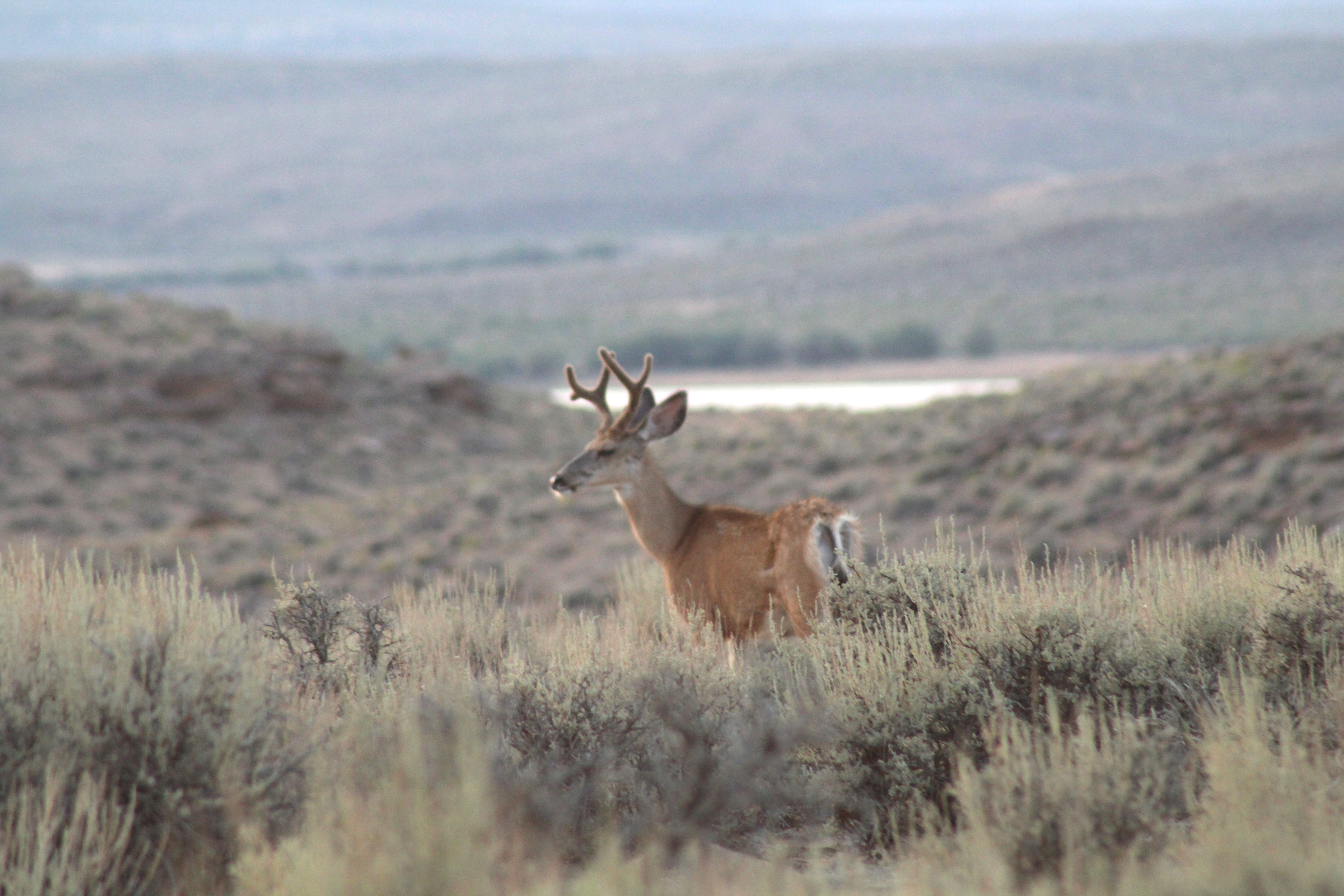 Want to get some great exercise and help protect essential stopover areas for the historical Red Desert to Hoback mule deer migration? The Wyoming Game and Fish Department and Rock Springs Field Office of the Bureau of Land Management have just the volunteer project for you. Volunteers are needed on Saturday, August 10, to help erect a steel jack fence at two locations near Farson, Wyoming. Meet at the Wyoming Department of Transportation facility in Farson, Wyo, at 8:00 a.m.

"Two locations totaling some 3,500 feet are planned to receive fence this year," says WGFD Terrestrial Habitat Biologist Troy Fieseler. "One location is on the east side of Steamboat Mountain and the other is near the Wind River front along the Jack Creek Drainage. Not only do these areas provide critical habitat for mule deer, but also for other big and small game, as well as sage grouse and nongame species. Habitat communities in these areas receive intense use and many are in poor condition. The objective of this project is to use steel jack fence to give these sites some much- needed rest to allow them to heal, so they can once again perform at high levels for animals to use them."

"Fencing materials for this project are located in Farson, which is where we will meet on the morning of August 10," Fieseler said. "Materials will be loaded onto trailers and moved to both sites. We are grateful to any and all who are willing to help with this effort and spend their Saturday helping with this habitat improvement project. The fence is made out of 2 3/8 inch tubing and is heavy, requiring lots of manpower, so the more people we have the quicker the fence can be installed. Of course, with this much fence to construct, we will have to complete the project at an additional follow-up work day to completely finish. However, we are hopeful we can get the majority accomplished the first day and that is why we really need volunteers."

Interested volunteers can sign up via an email to troy.fieseler@wyo.gov. The WGFD will be providing drinks and lunch for all. Please remember to bring sunscreen, water, gloves and clothes you don't mind getting dirty. Volunteers will also be required to fill out a volunteer agreement form.
Ask Wyoming Game and Fish
July 12, 2019
This is the perfect time to think about hunter management areas (HMA). Annually, applications for permission slips open the second Monday of July; that was July 8 for 2019. To access the 993,233 acres of land enrolled in the HMA program, you will need to first apply for permission slips through the Wyoming Game and Fish Department website. Here are the steps:
 
After making sure you have your hunting license and vehicle information handy, navigate online to HMA webpage. On this page you can see lists of access areas, view interactive maps, download ranch rules and smartphone-ready GeoPDF maps, as well as the link to "Apply for Permissions Slips." 
Next, you'll enter your first and last name and birth date exactly as it appears on your hunting licenses. The first time you log in, the system will also verify your address. You will then be asked to enter your vehicle and email contact information. You may enter as many vehicles as you would like, or if you are using a rental, there will be an option for that as well. If you need to update vehicle information at a later date, log back in and select the "Update Profile" link near the top right of the page. The email address is used to share important changes regarding your HMAs.
After logging in and completing your profile, click "Apply for Permission Slips." A listing of all your current hunting licenses, each with the available options for HMAs will display. The "All Hunter Management Area Information" button will show a brief description of all HMAs available for each particular license. To apply, select the desired slip from the list in the drop down menu and click "Apply." After confirming your choice, you will be able to download or print copies of the current ranch rules and map. Unlimited or first-come-first serve permission slips will be available to print immediately.
The Application period for draw permission slips will close at midnight the first or third Monday in August; for 2019 that's Aug. 5 and Aug. 19 . Draws will be conducted the following day and you will be able to see draw results by logging back into the system on Aug. 8 and  Aug. 22 and clicking on "View Your Hunter Management Areas." 
 

It is very important to first apply for the permission slip you want the most, as permission options may disappear from your profile once another is selected. Many hunt areas allow application for only one HMA or limited permission slip to maximize the opportunity for the greatest number of hunters. 
Public asked to report dead sage grouse during West Nile virus season
Reports help in the management of the state's sage grouse populations.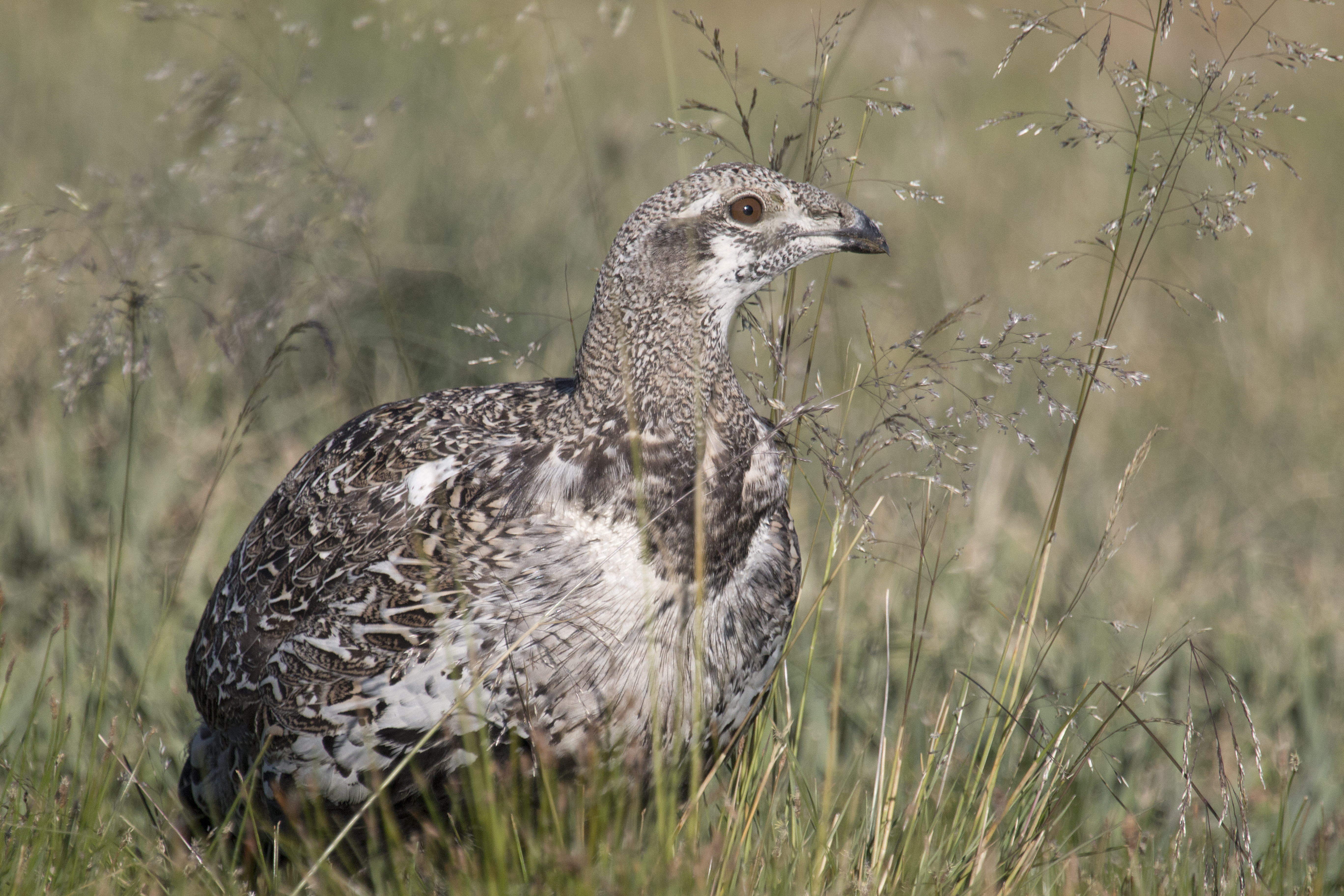 7/8/2019 6:53:47 PM
CHEYENNE - The Wyoming Game and Fish Department is asking everyone, especially landowners, to report dead sage grouse to the Wyoming Game and Fish Department so the birds can be tested for West Nile virus. Reports help in the management of the state's sage grouse populations.
 
Research has shown sage grouse have low resistance to West Nile virus, which is usually fatal to the birds. Evidence of the disease has been reported in past years in northeast Wyoming and in surrounding states, including a sage grouse in North Dakota.

Leslie Schreiber, the Wyoming Game and Fish Department's sage grouse/sagebrush biologist, said there is no sign yet of an outbreak of the virus in the bird's population. However, this year's precipitation and warm weather has created conditions favorable for mosquitoes, which can carry the virus.   

"Warm nighttime temperatures are thought to enhance the ability of the West Nile virus to multiply in the gut of the mosquito. If conditions are warm between now and the end of August, we could see the virus show up this year," Schreiber said.

Testing dead birds helps Game and Fish monitor the scope and impact of the disease across the state. 
 
"We are particularly interested in sage grouse found in remote areas that have no obvious injuries that might have resulted in their death. These may occur near water holes or hay fields on private lands," Schreiber said.

She added that obvious roadkills should not be reported. Schreiber emphasized the need to report dead birds to local Game and Fish personnel quickly so the birds don't deteriorate to the point they can no longer be tested.

For individuals willing to collect carcasses they find, the chance of getting the virus from handling a dead bird is remote; but, picking up the birds with an inverted plastic sack while wearing gloves is recommended. The bagged carcass should then be placed into another plastic bag, preferably a trash bag, tied, and taken to a Game and Fish Regional Office. If it can't be delivered quickly to Game and Fish, the bird should be frozen.
(Sara DiRienzo (307) 777-4540)
- WGFD -
The process to register a boat depends on if it is new, or where it was registered before. You can register a boat in Wyoming for one or three years. Here is the process:

Boats purchased in the last 30 days
Owners can operate their boat on a notarized bill of sale for up to 30 days.  
For a new or transfer-of-ownership motorized watercraft, you will need to have a county-issued title in your name and proof that the Wyoming sales tax has been paid.  
You may be required to have a hull identification inspection done by a law enforcement officer to verify the Hull Identification Number (HIN).  
Once you have your title and proof of sales tax paperwork completed, you can register your boat at any Game and Fish office or through the mail with the proper paperwork and fees attached.  Please be sure to allow 10 days from when you register your boat through the mail to receive your registration and decals.

Boats registered in another state
If your boat was previously registered in another state, you can present a title or watercraft registration in your name from the prior state at a Game and Fish office..

Wyoming registration renewals
If your boat is currently registered in Wyoming, you can renew your registration at a Game and Fish Office, online or through the mail with the proper paperwork and fees attached. Please be sure to allow 10 days from when you register your boat online or through the mail to receive your registration and decals.

Most boats likely require an aquatic invasive species decal prior to launching. Refer to the watercraft regulations for more details. Be sure to register your boat and purchase your AIS decal early so you're ready to enjoy the water.
GENERAL HUNTING REGULATION
Section 1. Authority. This regulation is promulgated by authority of Wyoming Statutes
§ 23-1-103, § 23-1-302, § 23-1-703, § 23-2-101, § 23-2-106, § 23-3-104, § 23-3-111, § 23-3-
304, § 23-3-305, § 23-3-306 and § 23-3-308.
Section 2. Definitions. For the purpose of all hunting and trapping regulations,
definitions shall be as set forth in Title 23, Wyoming Statutes, Commission regulations and the
Commission also adopts the following definitions:
(a) "Accompanied by a Mentor" means being directly supervised at all times by a
mentor who is within sight and direct voice contact.
(b) "Aircraft" means any machine or device (including but not limited to airplane,
helicopter, glider, dirigible or unmanned aerial vehicle (UAV)) capable of atmospheric flight.
(c) "Antlered" means a deer, elk, or moose that has visible antler growth plainly
protruding from the skull. Where a minimum number of antler points are specified, points shall
be counted on the side with the greater number of points.
(d) "Antlerless" means a deer, elk, or moose that has no antler growth plainly
protruding from the skull. Females and young-of-the-year without visible antlers are antlerless
big game animals.
(e) "Approved Landfill" means a landfill permitted by the State of Wyoming
Department of Environmental Quality.
(f) "Artificial Light or Lighting Device" means any man-made light or lighting
device which projects a visible light outside the device, or any electronic device that provides an
enhanced ability to see in the dark.
(g) "Bag Limit" means the maximum number of big game or trophy game animals
that may be taken by an individual possessing a proper license.
(h) "Buck Antelope" means male antelope with visible horns and a dark cheek patch
at the base of the ear.
(i) "Bureau of Land Management (B.L.M.)" means the land management agency
administered by the U.S. Department of the Interior.
(j) "Bureau of Reclamation Land" means lands administered by the U.S. Department
of the Interior Bureau of Reclamation.
2-2
(k) "Calf" means young-of-the-year elk or young-of-the-year moose.
(l) "Central Flyway" means the portion of Wyoming east of the Continental Divide,
excluding the Great Divide Basin.
(m) "Certificate of Competency and Safety in the Use and Handling of Firearms"
means a certification issued for the completion of an approved hunter safety course.
(n) "Conservation Order" means an action to reduce the mid-continent population of
light geese, which is promulgated in accordance with 50 CFR 20.21 and 50 CFR 21.60, revised
as of October 1, 2016, which does not include any later amendments or editions of the
incorporated matter. A copy of Title 50 of the Code of Federal Regulations can be viewed at
Department Regional Offices.
(o) "Cow" means an adult female elk or an adult female moose.
(p) "Daily Bag Limit" means the maximum number of game birds or
2-3
(z) "Irrigated land" means agricultural lands that are supplied with supplemental
water by ditches, pipes, flooding or spraying.
(aa) "Lamb" means a young-of-the-year bighorn sheep.
(bb) "Light Geese" means snow goose, blue goose and Ross's goose.
(cc) "Mentee" means a person who has received special authorization from the
Department to take wildlife and who has not received a certificate of competency and safety in
the use and handling of firearms.
(dd) "Mentor" means a person who is at least eighteen (18) years of age, can
demonstrate they have a certificate of competency and safety in the use and handling of firearms,
possesses a valid Wyoming hunting license and is directly supervising not more than one (1)
mentee, other than immediate family members, at a time while in the field.
(ee) "Motorized vehicle" means any vehicle powered by an internal combustion or
electric engine.
(ff) "Muzzle-loading firearm" means a muzzle-loading rifle or muzzle-loading
handgun of at least .40 caliber and firing an expanding point bullet or lead ball and using a
charge of at least fifty (50) grains of black powder or its equivalent.
(gg) "National Elk Refuge Permit" means a permit that allows a properly licensed elk
hunter to access the National Elk Refuge to take an elk.
(hh) "Nontoxic Shot" means steel or any other federally approved nontoxic shot.
(ii) "Off National Forest" means lands other than those administered by the U.S.
Forest Service.
(jj) "On National Forest" means lands administered by the U.S. Forest Service.
(kk) "Pacific Flyway" means the portion of Wyoming west of the Continental Divide,
including the Great Divide Basin.
(ll) "Park Permit" means a permit issued by Grand Teton National Park that allows a
properly licensed elk hunter to take an elk within Grand Teton National Park.
(mm) "Partridge" means chukar partridge and gray partridge.
(nn) "Point" means any protrusion from an antler one (1) inch or more in length.
(oo) "Possession Limit" means the maximum number of game birds or small game
animals that may be legally in possession. Wildlife in transit or storage shall be considered in
2-4
possession. For migratory game birds, when a person hunts in more than one (1) state, flyway or
zone, the person's total possession limit shall not exceed the largest possession limit prescribed
for any one of the states, flyways or zones in which the hunting takes place.
(pp) "Private Land" means all fee title/deeded lands owned by a private individual,
partnership, or corporation.
(qq) "Processor" means a custom meat processor licensed by the Wyoming
Department of Agriculture.
(rr) "Public Road or Highway" (except as otherwise provided) means any roadway
that is open to vehicular travel by the public. The road surface, the area between the fences on a
fenced public road or highway, and an area thirty (30) feet perpendicular to the edge of the road
surface on an unfenced public road or highway shall be considered the public road or highway.
Two-track trails on public lands are not public roads.
(ss) "Ram" means a male bighorn sheep that is one (1) year or older.
(tt) "Regular Hunting Seasons" mean seasons which delineate the dates and hunt
areas for the taking of big game or trophy game animals with legal weapons in accordance with
the license types and limitations as set forth in Section 2 of Chapters 5 (Antelope), 6 (Deer), 7
(Elk), 8 (Moose), Sections 3 and 7 of Chapter 9 (Bighorn Sheep and Mountain Goat), Section 10
of Chapter 3 (Black Bear), Section 3 of Chapter 42 (Mountain Lion) and Section 4 of Chapter 47
(Gray Wolf) of the Commission regulations.
(uu) "Season Limit" means the maximum number of sandhill cranes or pheasants that
may be legally taken during the entire season.
(vv) "Site of the Kill" means the location where the harvested animal died.
(ww) "Special Archery Seasons" mean seasons that delineate the dates and hu
2-5
(zz) "Type" means a limitation on a license in a particular hunt area for the sex of
animal, the species of animal, the length of the season, the type of weapon or a portion of the
hunt area in which the license shall be valid.
(aaa) "Upland Game Birds" means any sage grouse, blue grouse, ruffed grouse,
partridge, sharp-tailed grouse or pheasant.
(bbb) "Waste" means to leave, abandon or allow any edible portion of meat from a big
game animal, game bird, game fish or small game animal to become tainted, rotten or otherwise
unfit for human consumption prior to processing at a person's home or at a processor.
(ccc) "Waterfowl" means ducks, geese, coots and mergansers.
Section 3. Bag Limits and Numbers of Licenses. No person shall apply for or receive
more than one (1) license for each big game species during any one (1) calendar year, except as
otherwise provided in Commission Regulations. The maximum bag limit for big game animals
and trophy game animals for any person with the proper licenses and permits shall not exceed the
following number of animals: one (1) elk per license; one (1) moose per license; one (1) bighorn
sheep per license; one (1) mountain goat per license; one (1) antelope per license; one (1) deer
per license; one (1) black bear per license; one (1) mountain lion per license; one (1) gray wolf
per license. Section 4 of this Chapter and Chapter 34, Depredation Prevention Hunting Seasons
and other Commission regulations may provide for taking additional game animals with the
proper licenses.
Section 4. Issuance of Deer and Antelope Limited Quota Licenses, Reduced Price
Doe/Fawn Licenses, Elk Limited Quota Licenses and Reduced Price Cow/Calf Licenses.
(a) For deer, no person shall apply for and receive more than one (1) full price deer
license (General, Type 0, 1, 2, 3, 4, 5 or 9) through the initial drawing. After the initial drawing
is completed, any person may apply for and receive up to two (2) full price deer licenses
provided that at least one (1) license is a Limited Quota Type 3 any white-tailed deer license.
However, no person shall apply for and receive more than a total of two (2) deer licenses valid
for the taking of antlered or any deer, of which not more than one (1) shall be valid for antlered
or any mule deer.
(b) For deer, any person may apply for and receive a maximum of two (2) limited
quota reduced price doe/fawn deer licenses (Type 6, 7 or 8) through the initial drawing. After the
initial drawing is completed, any person may purchase up to four (4) limited quota reduced price
doe/fawn deer licenses. However, no person shall apply for and receive more than a total of four
(4) limited quota reduced price doe/fawn deer licenses. In Hunt Areas 24, 27, 29, 30, 32, 33 or
163 after the initial drawing is completed, any person may purchase an unlimited number of
limited quota reduced price doe/fawn deer licenses.
(c) For antelope, no person shall apply for and receive more than one (1) full price
antelope license (Type 0, 1, 2, 3, 4, 5 or 9) through the initial drawing. After the initial drawing
2-6
is completed, any person may apply for and receive up to two (2) full price antelope licenses.
However, no person shall apply for and receive more than a total of two (2) full price antelope
licenses.
(d) For antelope, any person may apply for and receive a maximum of two (2) limited
quota reduced price doe/fawn antelope licenses (Type 6, 7 or 8) through the initial drawing.
After the initial drawing is completed, any person may purchase up to four (4) limited quota
reduced price doe/fawn antelope licenses. However, no person shall apply for and receive more
than a total of four (4) limited quota reduced price doe/fawn antelope licenses.
(e) For elk, no person shall apply for and receive more than one (1) full price
(General, Type 0, 1, 2, 3, 4, 5 or 9) and one (1) reduced price (Type 6, 7 or 8) license through the
initial drawing. After the initial drawing, a person may apply for and receive up to a total of
three (3) elk licenses, of which no more than one (1) shall be a General, Type 0, 1, 2, 3 or 9
license. However, no person shall apply for and receive more than a total of three (3) elk
licenses which shall include not more than one (1) General, Type 0, 1, 2, 3 or 9 license in a
single hunting season.
(f) For bighorn sheep, any person may apply for and receive a maximum of one (1)
limited quota full price bighorn sheep license (Type 1) and one (1) limited quota reduced price
ewe/lamb license (Type 6).
(g) It is a violation to apply for and receive more than the specified number of
licenses allowed by Commission regulations.
Section 5. Open Hours for Taking Big Game, Small Game, Trophy Game, Upland
Game Birds and Wild Turkey.
(a) Big game, trophy game and small game animals may only be taken from one-half
(1/2) hour before sunrise to one-half (1/2) hour after sunset.
(b) Except as otherwise provided, upland game birds and wild turkey may only be
taken from one-half (1/2) hour before sunrise to sunset.
Section 6. Retention of Evidence to Identify Sex, Species and Horn or Antler
Development of Big Game Animal Harvested. Any person who takes any big game animal in
a hunt area where the taking of either sex, species, or antler or horn development is controlled or
prohibited by regulation shall comply with this section while said animal is in transportation
from the site of the kill to the residence of the person taking the animal, or delivered to a
processor for processing.
(a) In hunt areas where the taking of any big game animal is restricted to antler point
or horn size by regulation, the antlers or horns shall accompany the carcass, or edible portions
thereof.
2-7
(b) In hunt areas where the taking of any big game animal is restricted to a specific
sex of animal by regulation, either the visible external sex organs, head or antlers shall
accompany the carcass, or edible portions thereof.
(c) In hunt areas where the taking of a species of deer is controlled or prohibited by
regulation, either the head or the tail of the deer shall accompany the carcass or edible portion
thereof as evidence of the species taken.
Section 7. Dating and Display of Game Animal/Wild Turkey/Sandhill Crane
Carcass Coupons.
(a) When dating a carcass coupon, the entire day and month of the kill shall be
completely cut out and removed.
(b) The carcass coupon shall be signed, dated and attached to the carcass of any big
game or wild turkey or the carcass or hide of any trophy game animal in such a manner as to be
plainly visible before leaving the site of the kill. The carcass coupon shall be attached to the
carcass of any sandhill crane taken in limited quota areas in such a manner as to be plainly
visible. When the animal is in transportation, the carcass coupon may be carried by the person
accompanying the carcass so that the coupon shall not be lost. While quarters or pieces of an
animal are being packed from the field, the carcass coupon shall remain with the person
transporting the animal.
(c) Subsections 7(a) and (b) shall be in addition to the requirements in W.S.
§ 23-3-104.
Section 8. Emergency Closure. Big game hunting seasons may be closed because of an
emergency upon forty-eight (48) hours notice. Trophy game hunting seasons may be closed
upon immediate notice.
Section 9. Established Check Stations, Mandatory Reporting. Every hunter, angler,
or trapper of furbearing animals shall stop and report at every check station on route to or from
the hunting, fishing or trapping area regardless if the person has wildlife in possession. Upon
request of any authorized Department representative, anyone who has been hunting, fishing, or
trapping shall produce a valid license and conservation stamp, if required and special
management permit, if required, for game animals, game birds, furbearing animals or fish. Even
if the game meat or fish in possession has been cut and wrapped or processed, the person
transporting shall stop and report at the check station. Any person transporting wildlife
harvested in another state or country shall stop at check stations on their route.
(a) Check stations shall be signed and established at a point on a highway or road
clearly visible at a distance of not less than two hundred (200) yards in either direction.
(b) Check stations shall be at a point where flashing warning lights shall be visible to
oncoming traffic for a distance of not less than two hundred (200) yards. The emergency
2-8
warning lights on a marked law enforcement vehicle or a yellow flashing light on a marked
Department non-enforcement vehicle shall be in operation.
(c) At least one (1) person working the check station shall be in Department uniform.
Section 10. Placement of Name of Outfitter and Outfitter's License Number on
Back of License. Any big or trophy game hunter utilizing the services of an outfitter shall
legibly print the name of the outfitter, the outfitter's license number and the type of outfitter
license on the back of the licensee's big or trophy game license.
Section 11. Archery Hunting. No person shall hunt big game or trophy game animals
with archery equipment during a special archery hunting season without first obtaining an
archery license and the applicable hunting license. An archery license shall not be required in
addition to a limited quota (Type 9) license to participate in a limited quota archery only season.
Legal archery equipment and firearms may be used to hunt big game or trophy game animals
during the regular hunting seasons as set forth in Commission regulations.
Section 12. Use of Aircraft to Sport or Locate Wildlife. No person shall use any
aircraft with the intent to spot, locate and aid in the taking of any game animal from August 1
through January 31 of the following calendar year. Nothing in this Section shall apply to the
operation of an aircraft in a usual manner where there is no attempt or intent to locate any game
animal, such as aircraft used for the sole purpose of passenger transport.
Section 13. Retrieval of Edible Portions of Game Meat from the Field.
(a) The Department may require substantive proof from any person who fails to
retrieve from the site of kill all edible portions of a big game animal as to why the edible portions
were not removed from the field.
(b) Wounding and Retrieving. No person shall wound or kill any migratory game
bird without making a reasonable effort to retrieve it and reduce it to possession.
Section 14. Baiting of Big Game Animals Prohibited Except by Qualified Persons.
Any legally blind person, person confined to a wheelchair, person hunting with a permit issued
pursuant to W.S. § 23-3-304(d)(iv) or any person hunting with a license issued pursuant to W. S.
§ 23-1-705 (j) may place a bait for big game or take a big game animal by the use of bait.
Section 15. Transportation and Disposal of Deer, Elk and Moose Taken from
Chronic Wasting Disease (CWD) Hunt Areas within Wyoming. It shall be the purpose of
this section to regulate the transportation and disposal of deer, elk and moose carcasses to reduce
potential spread of CWD within and outside Wyoming. Hunters may obtain current CWD
information on the Department website.
2-9
(a) No deer, elk or moose taken or possessed from any hunt area shall be transported
to any other hunt area within Wyoming or to any other state, province or country except as
provided in this section.
(b) Deer, elk and moose carcasses harvested from any hunt area in Wyoming may be
transported within Wyoming to a camp, a private residence for processing, a taxidermist, a
processor, or a CWD sample collection site in Wyoming, provided the head and all portions of
the spinal column remain at the site of the kill or such parts are disposed of in any approved
landfill in Wyoming.
(c) Except as provided in subsection (b) of this section, only the following parts of
any deer, elk or moose harvested from any hunt area in Wyoming may be transported to any
other hunt area in Wyoming: edible portions with no part of the spinal column or head attached;
cleaned hide without the head; skull plate or antlers that have been cleaned of all meat and brain
tissue; teeth; or, finished taxidermy mounts.
(d) Only the following parts of any deer, elk or moose harvested from any hunt area
in Wyoming may be transported to other states, provinces or countries: edible portions with no
part of the spinal column or head attached; cleaned hide without the head or skull plate; antlers
that have been cleaned of all meat and brain tissue; teeth; or, finished taxidermy mounts. Whole
deer, elk and moose carcasses harvested from any hunt area shall not be transported out of
Wyoming.
(e) Nothing in this section shall allow for the removal of evidence of sex or species
required by Section 6 of this regulation.
(f) Nothing in this section shall apply to the transportation or disposal of deer, elk
and moose carcasses by any governmental agency or educational institution.
Section 16. Importation or Transportation of Deer, Elk or Moose Taken From
Identified CWD Areas Outside of Wyoming.
(a) No deer, elk or moose taken from within any other state, province or country
within areas designated by the appropriate jurisdictional agency as positive for CWD in either
deer, elk or moose shall be imported into Wyoming except harvested deer, elk or moose
carcasses may be imported or transported into Wyoming to a private residence for processing, to
a taxidermist, to a processor or to a CWD sample collection site in Wyoming provided the head
and all portions of the spinal column are disposed of in an approved landfill.
(b) Except as provided in subsection (a) of this Section, only the following parts of
any deer, elk or moose harvested may be imported: edible portions with no part of the spinal
column or head attached; cleaned hide without the head; skull plate or antlers cleaned of all meat
and brain tissue; teeth; or finished taxidermy mounts that have been cleaned of all meat and brain
tissue.
2-10
Section 17. Mandatory CWD Sample Submission. The Department may mandate
hunters submit CWD samples from harvested deer, elk and moose from designated hunt areas
within Wyoming.
Mandatory submission of CWD samples from harvested deer, elk and moose may be
established annually by the Department when necessary to meet its CWD testing and monitoring
requirements or to implement and evaluate management actions related to CWD. Mandatory
CWD sample submission of deer, elk and moose shall end when the Department achieves
sampling goals for designated hunt areas, as stipulated by Department personnel prior to enacting
any mandatory CWD sample submission. The Department shall determine the type, time frame
and method of CWD sampling required for submission.
When the Department mandates hunters submit CWD samples, public notice shall be
given through posting of mandatory submission requirements in Department offices and
designated license selling agents, electronic or traditional mailings to known license holders (and
other sportspersons) and through the Department website, publications and news releases.
It shall be a violation of Commission regulation for a hunter to fail to submit mandated
CWD samples in accordance with this section.
Section 18. Hunter Mentor Program.
(a) Any person born on or after January 1, 1966, who has not received a certificate of
competency and safety in the use and handling of firearms may apply to the Department for a
special authorization to take wildlife with the use of a firearm while being accompanied by a
mentor. A special authorization issued to an individual shall be in the possession of the recipient
at all times while in the field. The applicant shall apply on the Department website.
(b) Any person acting as a mentor to a mentee with a special authorization pursuant
to this section shall accompany the mentee at all times to provide constant supervision.
Section 19. Areas Closed to the Taking of Specified Wildlife. All areas within the
State not opened by specific order of the Commission shall be closed to the taking of all big
game animals, trophy game animals, small game animals, furbearing animals and game birds.
WYOMING GAME AND FISH COMMISSION
Mark Anselmi, President
Dated: April 24, 2018