WY GAME AND FISH WEEKLY UPDATE
Newton Lakes access area receives improvements
CODY - When most people think about Newton Lakes, what immediately comes to mind is the fisheries in East and West Newton Lakes the Wyoming Game and Fish Department manage.  Game and Fish does a lot more at Newton Lakes than manage fisheries however, and recently the popular access area just north of Cody received some improvements.   

"Newton Lakes is one of 48 public access areas in the Bighorn Basin the Wyoming Game and Fish Department maintains," said Craig Swanson, habitat and access biologist.   

Swanson is part of a small crew that is responsible for maintaining both wildlife habitat management areas and public access areas in the Bighorn Basin.  "Combined, that encompasses over 60,000 acres of land," Swanson said. 

Public access areas provide important access points to hunt or fish and Game and Fish maintains these areas in a variety of ways.   For an access area like Newton Lakes, Game and Fish maintains the perimeter fence, restrooms, roads, parking areas, boat ramps, docks and signage for the benefit of sportsmen.  Landownership of each access area varies across the Basin.  In the case of Newton Lakes, the land is owned by Bureau of Reclamation but managed by Game and Fish through a cooperative agreement.  

As part of routine maintenance, Swanson is in the process of upgrading the east boundary fence on Newton Lakes to a wildlife friendly, pole top fence, replacing an old wire fence.  In addition, a section of cable barrier along road edges and parking areas has been replaced with boulders.   The Bureau of Reclamation provided the boulders and fence material for the upgrades. 

"Barriers are in place to minimize resource damage caused by vehicle traveling off-road.  Boulders provide a better visual aid on these edges and require very little maintenance, as opposed to cable barriers.  Over time, Swanson hopes to replace all cable barriers at the access area to maintain efficiency.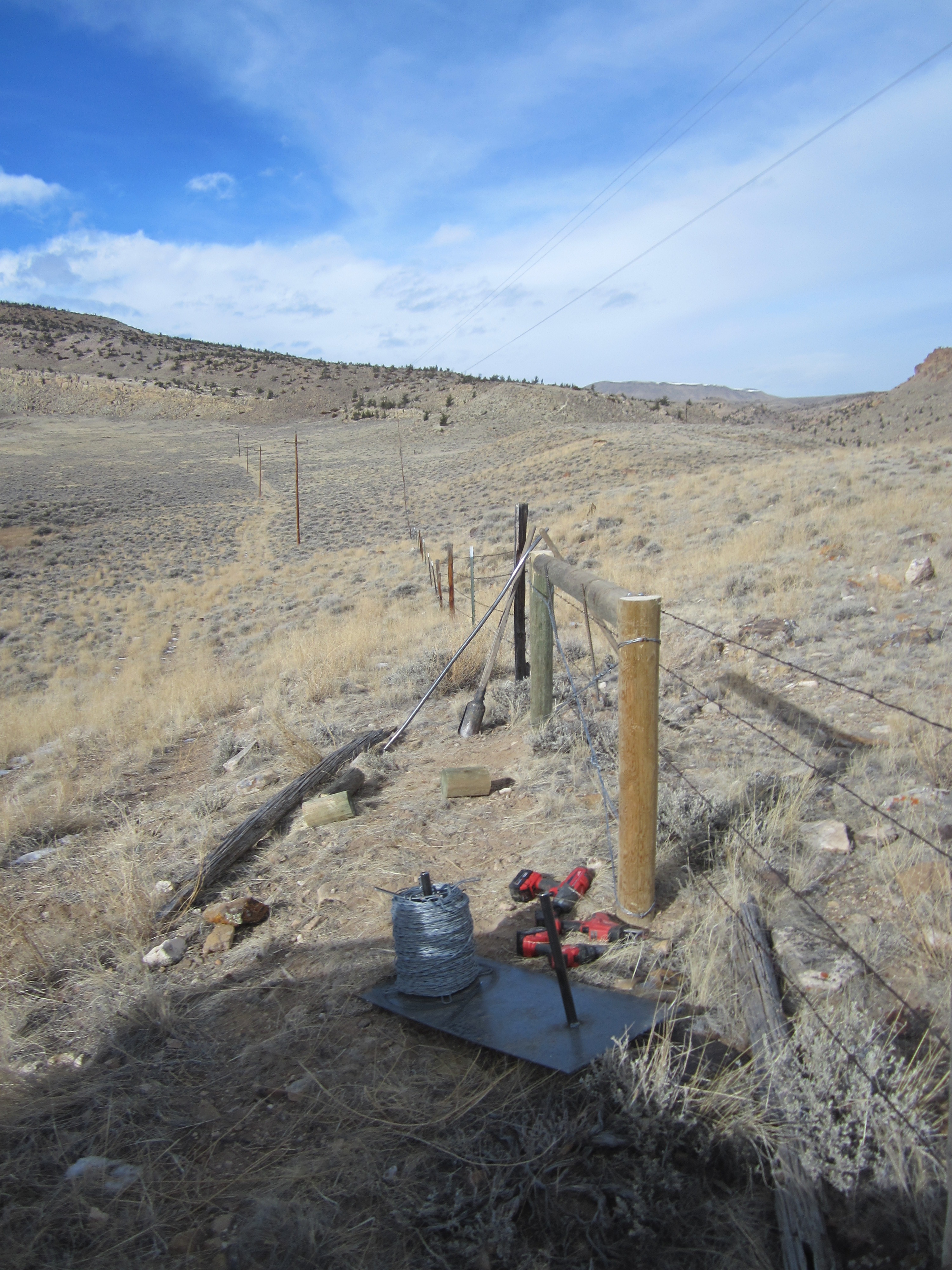 The east boundary fence at Newton Lakes access area is currently being upgraded to a wildlife friendly, pole top fence.   New stretch panels and corner braces were installed before the old wire was removed.
 
- WGFD -
Applications open for two women's outdoor camps
It's not the typical girls' weekend, but it could be one of the most memorable
CHEYENNE - It's not the typical girls' weekend, but it could be one of the most memorable. Applications are open now for two Becoming an Outdoors-Woman camps. The weekend workshops, known as BOW, are hosted by the Wyoming Game and Fish Department to teach women outdoor skills and activities.

The first camp, June 28-30, is the traditional BOW workshop. Held in Dubois at the Whiskey Mountain Conservation Camp, women will learn about local plants and wildlife, and get to try out canoeing, orienteering, fishing, archery, shooting sports and photography. The cost is $150, due when applications are submitted. There are 45 spots for randomly chosen participants. Groups up to four can apply together.

The second workshop is slated for Sept. 13-15 at the Safari Club International Granite Creek Camp between Jackson and Pinedale. Called Beyond BOW, this hunting-focused camp has two parts. One is for mentors to learn how to best introduce and support people who are new to hunting; the other is a camp for women to develop skills to learn to hunt. The camp accepts 20 hunters and 10 mentors. 

"Mentors are individuals — men or women — who have experience hunting and want to take the next step in their hunting journey to share that knowledge with others," said Kathryn Boswell, Game and Fish hunter and angler participation coordinator. "This camp will teach you the needed skills for your first hunt and connect you with others in the Wyoming hunting community."

Beyond BOW will cover topics such as hunting ethics, firearms, archery, gun cleaning, optics and a simulated hunt. The cost is $200. Participants will be expected to complete an online hunter safety course before participating in the camp. 

"BOW camps have expert instructors who will teach you something new in a supportive environment," said Boswell. "It's a unique getaway for friends or to make new ones — it's the quintessential Wyoming weekend."

The application deadline for BOW is April 15 and Beyond Bow is June 15. Women must be at least 18 years old to apply. If not selected, application fees will be returned. Applications and payment information are available on the Game and Fish website.
(Sara DiRienzo (307-777-4540))
- WGFD -
Bears beginning to wake this spring
Be vigilant with bear safety
CHEYENNE - As winter subsides and spring begins, the Wyoming Game and Fish Department reminds outdoor recreationalists and rural homeowners in northwest Wyoming to be bear aware while enjoying the outdoors Wyoming has to offer.

Game and Fish Bear Wise Coordinator Dusty Lasseter said by this time of year, some bears have emerged from their dens. "Typically, male bears emerge from their dens in mid-March and early April, while females and young-of-the-year cubs emerge in late April and early May. With grizzly bears being active in the Greater Yellowstone Area and black bears be being active statewide, now is the time to be bear aware and take the necessary precautions to avoid potential conflicts."

Game and Fish strives to manage conflict resolution between people and large carnivores, as well as quantifying and evaluating how situations occur.  

"In most conflict situations, bears do not interact with people. Rather they go after food attractants like unsecured human foods, livestock or pet foods, garbage or birdseed," Lasseter said.

If you live in black or grizzly bear country, Lasseter recommends keeping food attractants properly stored and unavailable to bears. Barbecue grills should be kept clean and stored in a garage or shed when possible.  

"The majority of the people in rural areas of northwest Wyoming do an excellent job of securing attractants away from bears, but it's important to remain vigilant to minimize the potential for conflict," Lasseter said.

Those who recreate in bear country also need to be aware of the potential for encounters with bears. When recreating in bear habitat, be cautious and alert. Hike in a group and make noise as you travel so bears can hear you. Learn to recognize areas of heavy bear use by knowing how to identify tracks, scats and diggings, and if you smell a carcass, avoid it. Flocks of magpies or ravens often indicate a nearby potential food source for bears. Remember, when bears scavenge large animals they often cover what they can't eat with brush or dirt and may stay nearby for several days to defend it from other bears.

Commercially available bear spray is effective for stopping aggressive bears. Use bear spray only as a deterrent and as a last resort to avoiding a physical encounter. Carry bear spray in a readily accessible manner and make sure the spray is EPA approved.  

"Those recreating and living in grizzly bear country have done an exceptional job increasing awareness and taking the necessary precautions to provide for the long-term viability of grizzly bears in the Greater Yellowstone Ecosystem," Lasseter said. "Without the proactive measures and awareness already in place, we would not be where we are at today with grizzly bear management and conservation in Wyoming, and for that the people who live, work and recreate in grizzly bear country should be commended for their efforts."

For more information on how to stay safe in bear country visit the Bear Wise Wyoming website.
(Sara DiRienzo (307-777-4540))
- WGFD -
Tom Easterly Memorial Award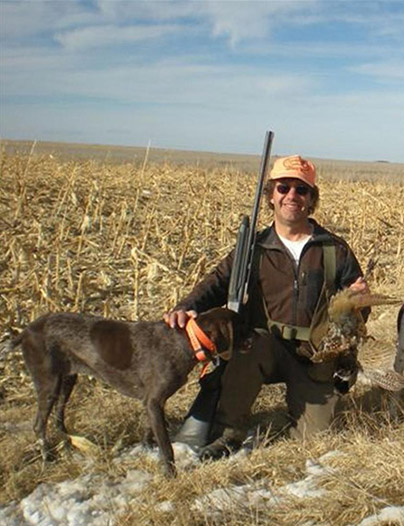 Tom Easterly Memorial Award:  Apply now! 
The application period for the Tom Easterly Memorial award is now open and youth in the Big Horn Basin are encouraged to apply.  Recipients of this award will each receive a free lifetime Wyoming game bird/small game license and lifetime conservation stamp, which is valued at $496.50. Applications are due by April 1.
 
Youth ages 14-17 can apply by submitting an application and essay describing why the applicant hunts and why wildlife is important to that individual.  
 
To be eligible, applicants must reside within the boundaries of the Greybull Biologist District which include Basin, Burlington, Cowley, Greybull, Lovell, Manderson, Ten Sleep and Worland and be a resident who has continuously resided in Wyoming for at least 10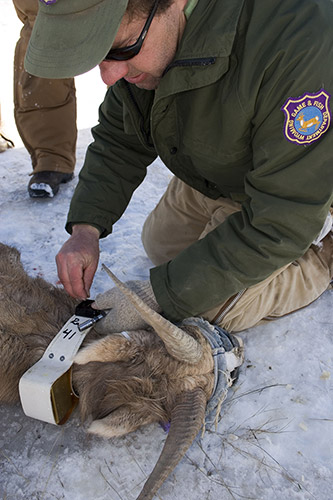 years immediately preceding the date of application. 
 
The Tom Easterly Memorial Award was established in the spirit of former Greybull biologist Tom Easterly's belief in our future generations of conservationists. Tom Easterly served as the Wyoming Game and Fish Department Greybull area biologist from 1992 through 2014. Tom's passion was introducing young hunters to the sport of bird hunting and sharing the importance of well managed wildlife habitat with them. 
 
This year marks the fifth year lifetime Wyoming game bird/small game license and lifetime conservation stamp awards will be awarded to area youth.  Applicants will be judged by their application qualifications and the content of their essay by a committee of five.


Game and Fish Camp Wild summer camp registration open
CHEYENNE — Kids who like nature and wildlife will have the chance get outside this summer to explore with the Wyoming Game and Fish Department. Game and Fish is hosting Camp Wild day camps at six regional locations and two sessions of a week-long overnight camp for youth at the Whiskey Mountain Conservation Camp.
"Camp Wild is for anyone who likes learning, being outside and trying new activities," said Ashley Leonard, Game and Fish conservation education coordinator. "Our goal is to get students excited about conservation."
The 3-day Camp Wild summer day camps are for students entering 5th and 6th grade and are held from 9 a.m. to 3 p.m. each day. Sessions will include hands-on learning about wildlife, habitats, aquatic ecology, navigation, basic survival, team builders, spincasting and archery. Participants will have the opportunity to experience quality time outside while having fun and learning more about Wyoming's amazing wildlife and outdoor recreation opportunities. Campers will need to bring a water bottle and a lunch each day. Each camper will receive a Camp Wild T-shirt and journal for participating in the camp.
Day camps are held in six locations across Wyoming. The fee to attend is $60 per child. Space for each camp is limited to 25 participants and the deadline to register is May 1. The schedule includes:
| | | |
| --- | --- | --- |
| Town | Date | Location |
| Sundance | June 4-6 | Washington Park |
| Lander | June 11-13 | Lander City Park: Lion's shelter |
| Cheyenne | June 17-19 | Cheyenne Botanic Gardens: Children's Garden |
| Laramie | June 17-19 | Happy Jack Recreation Area trailhead |
| Green River | June 24-26 | Green River Game and Fish office |
| Dayton | July 1-3 | Amsden Creek Wildlife Habitat Management Area |
For older students, Camp Wild at Whiskey Mountain Conservation Camp offers a separate girls and boys week of overnight camp for students entering 9th and 10th grade. Both the boys and girls camp will focus on exploration of nature, introduction to conservation principles, practicing science and learning new recreational outdoor activities. Meals will be provided for the duration of the camp. Participants will need to bring proper clothing and footwear for outdoor exploration as well as a sleeping bag and other overnight gear. Transportation to and from camp is not provided.
Girls camp is scheduled for July 16-20 and boys for July 23-27. The cost for either camp is $150. The deadline to register is June 1. Scholarships to attend are available and are due March 30.
To register for either camp visit wgfd.wyo.gov/store/store/conservation-camps. For questions about camp contact Ashley Leonard at ashley.leonard@wyo.gov or (307) 777-4535.